Posts for: September, 2018
By Port Huron Periodontics
September 20, 2018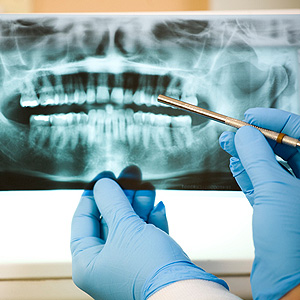 If you've had periodontal (gum) disease, you've no doubt experienced gum inflammation, bleeding or pain. But your gums may not be the only mouth structures under assault — the disease may be damaging the underlying support bone.
Although easing soft tissue symptoms is important, our primary focus is to protect all your teeth's supporting structures — the gums, the attaching ligaments and, of course, the bone. To do so we must stop the infection and reduce the risk of reoccurrence.
Stopping gum disease depends on removing its source — plaque, a thin biofilm of bacteria and food particles accumulating on tooth surfaces, due to poor oral hygiene. We must remove it mechanically — with hand instruments known as scalers or ultrasonic equipment that vibrates the plaque and calculus (hardened plaque deposits) loose.
It's not always a straightforward matter, though, especially if the diseased gum tissues have pulled away from the teeth. The slight natural gap between teeth can widen into voids known as periodontal pockets; they fill with infection and can extend several millimeters below the gum line. We must thoroughly cleanse these pockets, sometimes with invasive techniques like root planing (removing plaque from the roots) or surgical access. You may also need tissue grafting to regenerate gum attachment to the teeth.
One of the more difficult scenarios involves pockets where roots divide, known as furcations. This can cause cave-like voids of bone loss. Unless we treat it, the continuing bone loss will eventually lead to tooth loss. Besides plaque removal, it may also be prudent in these cases to use antimicrobial products (such as a mouthrinse with chlorhexidine) or antibiotics like tetracycline to reduce bacterial growth.
Perhaps the most important factor is what happens after treatment. To maintain gum health and reduce the chances of re-infection, you'll need to practice diligent daily hygiene, including brushing, flossing and any prescribed rinses. You should also keep up a regular schedule of office cleanings and checkups, sometimes more than twice a year depending on your degree of disease.
If you would like more information on treatments for gum disease, please contact us or schedule an appointment for a consultation. You can also learn more about this topic by reading the Dear Doctor magazine article "Treating Difficult Areas of Periodontal Disease."
By Port Huron Periodontics
September 10, 2018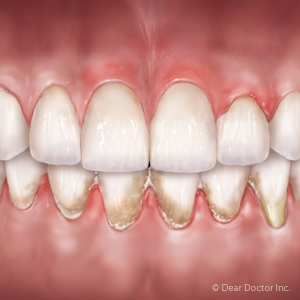 Periodontal (gum) disease can cause a number of devastating effects that could eventually lead to tooth loss. However, you may be more prone to a particular effect depending on the individual characteristics of your gums.
There are two basic types of gum tissues or "periodontal biotypes" that we inherit from our parents: thick or thin. These can often be identified by sight — thinner gum tissues present a more pronounced arch around the teeth and appear more scalloped; thicker tissues present a flatter arch appearance. While there are size variations within each biotype, one or the other tends to predominate within certain populations: those of European or African descent typically possess the thick biotype, while Asians tend to possess the thin biotype.
In relation to gum disease, those with thin gum tissues are more prone to gum recession. The diseased tissues pull up and away (recede) from a tooth, eventually exposing the tooth's root surface. Receding gums thus cause higher sensitivity to temperature changes or pressure, and can accelerate tooth decay. It's also unattractive as the normal pink triangles of gum tissue between teeth (papillae) may be lost, leaving only a dark spot between the teeth or making the more yellow-colored root surface visible.
While thicker gum tissues are more resilient to gum recession, they're more prone to the development of periodontal pockets. In this case, the slight gap between teeth and gums grows longer as the infected tissues pull away from the teeth as the underlying bone tissue is lost. The resulting void becomes deeper and more prone to infection and will ultimately result in further bone loss and decreased survivability for the tooth.
Either of these conditions will require extensive treatment beyond basic plaque control. Severe gum recession, for example, may require grafting techniques to cover exposed teeth and encourage new tissue growth. Periodontal pockets, in turn, must be accessed and cleaned of infection: the deeper the pocket the more invasive the treatment, including surgery.
Regardless of what type of gum tissue you have, it's important for you to take steps to lower your risk of gum disease. First and foremost, practice effective daily hygiene with brushing and flossing to remove bacterial plaque, the main cause of gum disease. You should also visit us at least twice a year (or more, if you've developed gum disease) for those all important cleanings and checkups.
If you would like more information on hereditary factors for gum disease, please contact us or schedule an appointment for a consultation. You can also learn more about this topic by reading the Dear Doctor magazine article "Genetics & Gum Tissue Types."